During the winter season, Estérel Resort offers more than 35 km of cross-country ski trails, around twenty kilometers of snowshoe trails and an ice ring that connects the three surrounding lakes. The perfect playground for you, winter lovers!
Back in your spacious suite, you will have plenty of time to snuggle up by the fire, before meeting in one of our three restaurants, or for a tasting in one of the most famous wine cellars in the country. The Lido Thermal (Nordic spa) also offers you a rejuvenating spa experience in its hot tubs and heated swimming pools, hammam and saunas.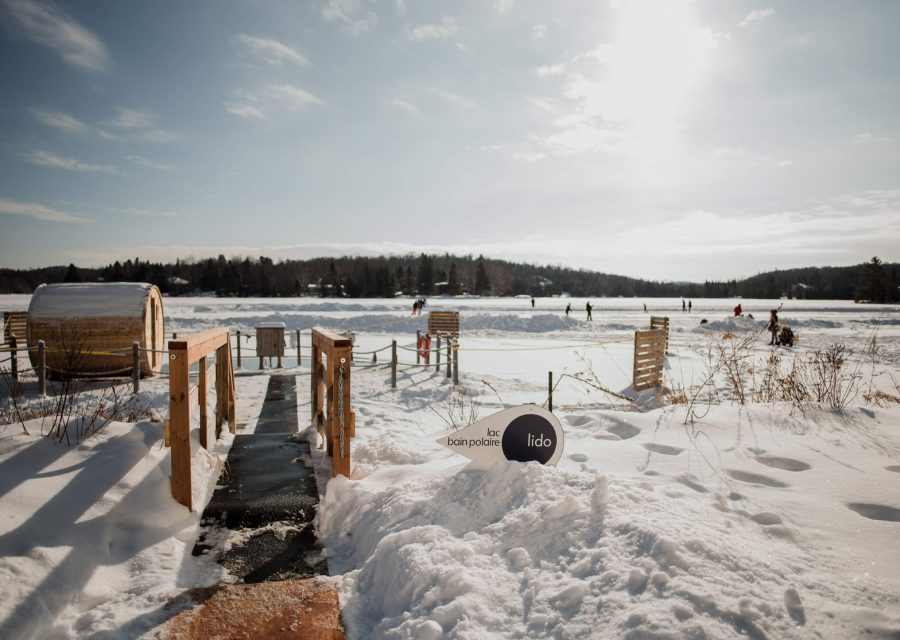 The winter essentials at Estérel Resort
Hors Limite trails at Estérel Park
Snowshoe
The 5 snowshoe trails invite you to explore no less than 20 kilometers of trails. Take advantage of this wilderness experience to discover exceptional landscapes and create memorable moments on snowshoes. Whether you're a beginner or an experienced snowshoe enthusiast, the varied trails cater to all levels of experience, ensuring an unforgettable winter adventure.
HORS LIMITE TRAILS AT ESTÉREL PARK
Cross-country skiing
Just a few minutes away on foot or by car, Estérel Resort offers privileged access to cross-country ski trails in the heart of the forest. These magnificent trails, located in the Estérel park, offer a choice of 11 courses, ranging from easy to expert, with a total of 35 kilometers of trails for classic cross-country skiing. For more information on the trails, do not hesitate to contact our partner Hors Limite.
*Please note that trails may close without notice, depending on their condition and temperature. 
Discover Hors Limite map
An ice ring is built on the majestic Lac Dupuis, linking the three surrounding lakes. Lace up your skates and hit the rink! No extra charge for access to the rink if you have your own equipment. Please note that the ice ring can be closed at any time, depending on the weather, for safety reasons.
Meet around the fire at any time of the day. A great way to warm up after a big outdoor adventure, or to start the evening in style! The fires are located in two areas adjacent to the Lido Thermal (Nordic spa).
An Exceptional Relaxation
Lido Thermal
The four-season access available to all our guests allows you to enjoy the hot-cold course while spending quality time with your partner, family or friends in a relaxing atmosphere overlooking the frozen lake. Great memories guaranteed! You can also reserve our suites with private spa. Lido Thermal is open from 7 a.m. to 11 p.m. every day.
Learn more about the Lido Thermal
Nearby ski mountains
Alpine Skiing & Snowboarding
The Laurentian region is renowned for being a great place to ski, whether you're a beginner or an experienced skier. Nestled between four peaks, including Gabriel Sommet, St-Sauveur, Morin Heights and Olympia, as well as a tubing park, all in an enchanting setting just minutes from Estérel Resort.
wine tasting
The Wine Cellar
We invite you to savor a wine tasting experience in our cellar, available daily. Our team of sommeliers will be there to guide you and expand your knowledge of wine and spirits. In addition, you'll have the chance to indulge in delightful Quebec cheeses and other delectable small bites to share, all while enjoying the picturesque view of Lac Dupuis. Reservations are necessary.
Learn more
ENJOY THE COMFORT OF YOUR SUITE
In your suite
Enjoy a relaxing moment within the comfort of your suite, whether by the fireplace or overlooking the lake and its stunning snow-covered scenery. ake this opportunity to reconnect with your close family, play board games, and savor the hotel life. At Estérel Resort, your suite is your private living space.
HEALTH AND BEAUTY CENTER
Amerispa
Here you will find a full range of treatments provided by a team of professionals: massage therapy, aesthetic, or body treatments. In addition, our manicure and pedicure room offers a unique view of the lake. Immerse yourself in a world of ultimate well-being and relaxation at the Amerispa health and beauty center.
BOOK A TREATMENT AT AMERISPA