Wine lovers have all one day heard the name of Champlain Charest, one of Quebec's most famous wine collectors. His wine cellar was known around the world for its unique bottles, large formats and prestigious wines.
In 2015, Esterel Resort acquired the last 5000 bottles of Champlain Charest's wine collection, thereby committing to pursue his dream. As a nod to Champlain Charest's heritage, Esterel Resort is changing the name of its gourmet restaurant, L'ultime, for Bistro à Champlain.
The Wine Collector
Champlain Charest
Once a radiologist, Champlain Charest never suspected, when his friend André Légaré introduced him to wine in the 60s, that he would one day become the most famous wine collector in the province!
His wine cellar was so exceptional that starting in 1988, it was awarded, each year, the Grand Award from the notable Wine Spectator magazine, a first in Canada. In addition to keeping the cellar in Quebec, Estérel Resort is committed to following in the footsteps of Champlain Charest by maintaining strong ties with the producers he was working with over the years and by continuing to expand one of the most beautiful wine collections in Canada.
La Tâche, Richebourg, Romanée-Conti, or even Petrus, Barolo and Yquem are just few of the great bottles kept in our new and highly secure wine cellar.
For over 40 years, the Bistro à Champlain was a mythical place located in the former general store, next to the church, in Sainte-Marguerite-du-Lac-Masson.
People would come from far away to taste exceptional wines, enjoy a good meal – the Bistro won a CAA Four Diamond Award in 2008 – and to admire the work of famous painter Jean-Paul Riopelle, a close friend of Champlain Charest.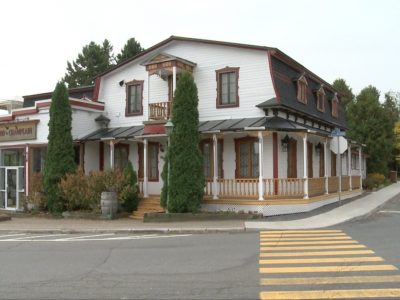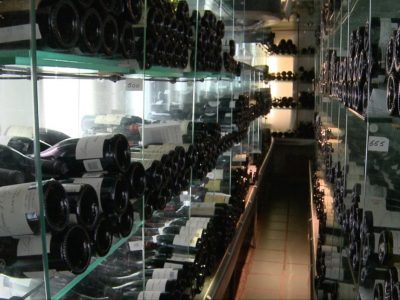 In 2014, Mr. Charest announced that he was closing doors; an institution was going to disappear and it represented a great loss for the region. The idea of ​​preserving this iconic place quickly appeared in the minds the owners of Estérel Resort, and it finally materialized in 2015. However, to ensure a fruitful succession, it was essential to build bridges with a few European producers working with Mr. Charest, and so, we took our first trip to Burgundy, France.
Building bridges
A mythical region of France producing over 200 million bottles each year, Burgundy is best known for its Pinot Noir and Chardonnay. Champlain Charest himself joined the Estérel Resort team for the trip, for the purpose of introducing us to this old friends!
After ten days, a dozen vineyards, more than 200 bottles and countless meetings, it quickly became clear that this large-scale project was worth the effort, if only to perpetuate the oenophile vocation of the region and honour Champlain Charest.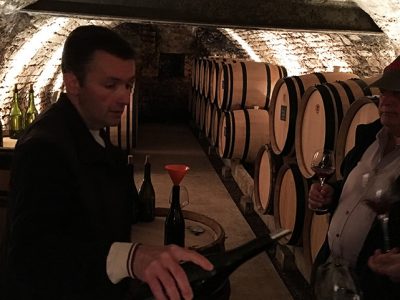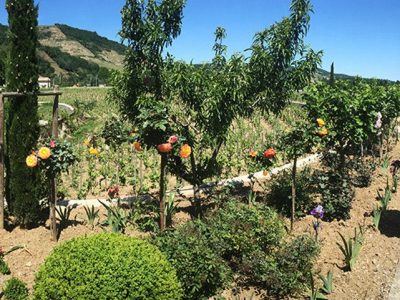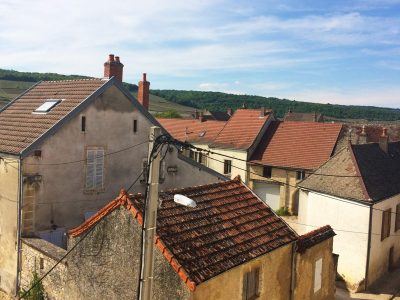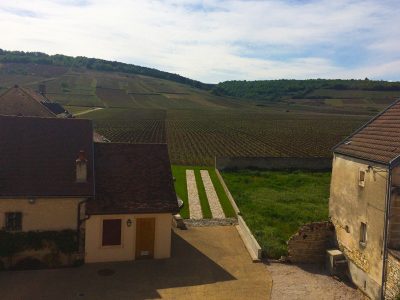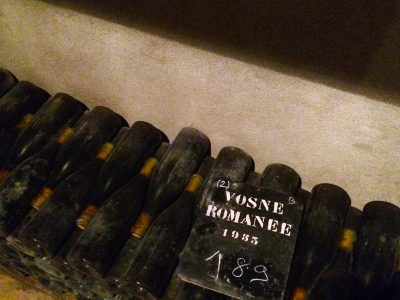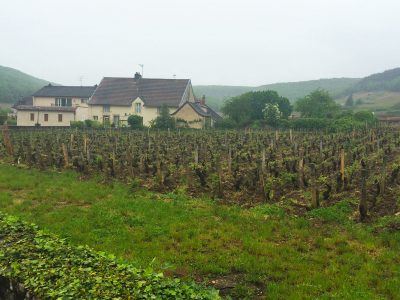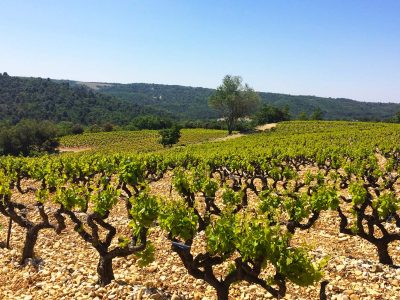 This symbolic journey was also a rather immersive way of transmitting Champlain Charest's knowledge and passion to his successors. This family trip through breathtaking landscapes helped building relationships with wine enthusiasts and professionals, including Pascal Marchand, Alain Burguet, Cyril Payon, Claude Chevalier and many others.
It was not the first time that Mr. Charest had traveled to Burgundy, and he hoped with all his heart that it would not be the last! This legend of the wine culture still hasn't made the trip during the harvest period, and it is a dream he truly cherishes.
Nowadays
Champlain Charest's legacy went from Lake Masson to Lake Dupuis, less than two nautical miles from the former general store, and landed on the Estérel Resort site. In order to showcase it, we built a modern wine cellar and a tasting room specially adapted to the new wine cellar. Meanwhile, the restaurant is alive again, and has a beautiful view overlooking the lake and nature.
Finally, Monique Nadeau, Mr. Charest's wife, still participates in the conservation and sustainability of her husband's former collection. It is also possible, sometimes, to meet Champlain Charest in the flesh, on our site; he will take great pleasure in discussing oenology, history and to tell you about his journey.
An epic journey that continues today
The wine cellar
Today, the new wine cellar located in Estérel Resort counts more than 20 000 bottles.
From the 1953 Pétrus to the 6 liters of Romanée Saint-Vivant from Domaine de la Romanée-Conti 1990, including several vintages of Château Margaux, Château Lafite Rothschild, Château Latour and Château Haut-Brion, the prestigious Estérel Resort wine cellar offers rare finds to wine lovers.
The Wine Events Newsletter
What's new? Wine news and special events: be the first to know about the activities of the Bistro à Champlain's wine cellar by subscribing to our wine newsletter.
Subscribe to the Newsletter