In order to highlight the great richness of the Bistro à Champlain wine cellar, our sommeliers regularly dive into the heart of the collection to find real wine treasures, for your pleasure …
Every Saturday, they open The Cannon of the week, which can be enjoyed by the ounce during the following week. Also, during your visit to Estérel Resort, do not hesitate to ask the assistance of a sommelier to help you in your choices … Their favorites are worth the detour!
Every week, an amazing bottle!
The Cannon of the Week
Every Saturday at 5:30 pm, our sommeliers will open The Cannon of the Week, an exceptional bottle from Champlain Charest's wine collection, which you will be able to taste by the ounce during the following week!
FOR THIS MONTH, OUR SOMMELIERS HAVE CHOSEN: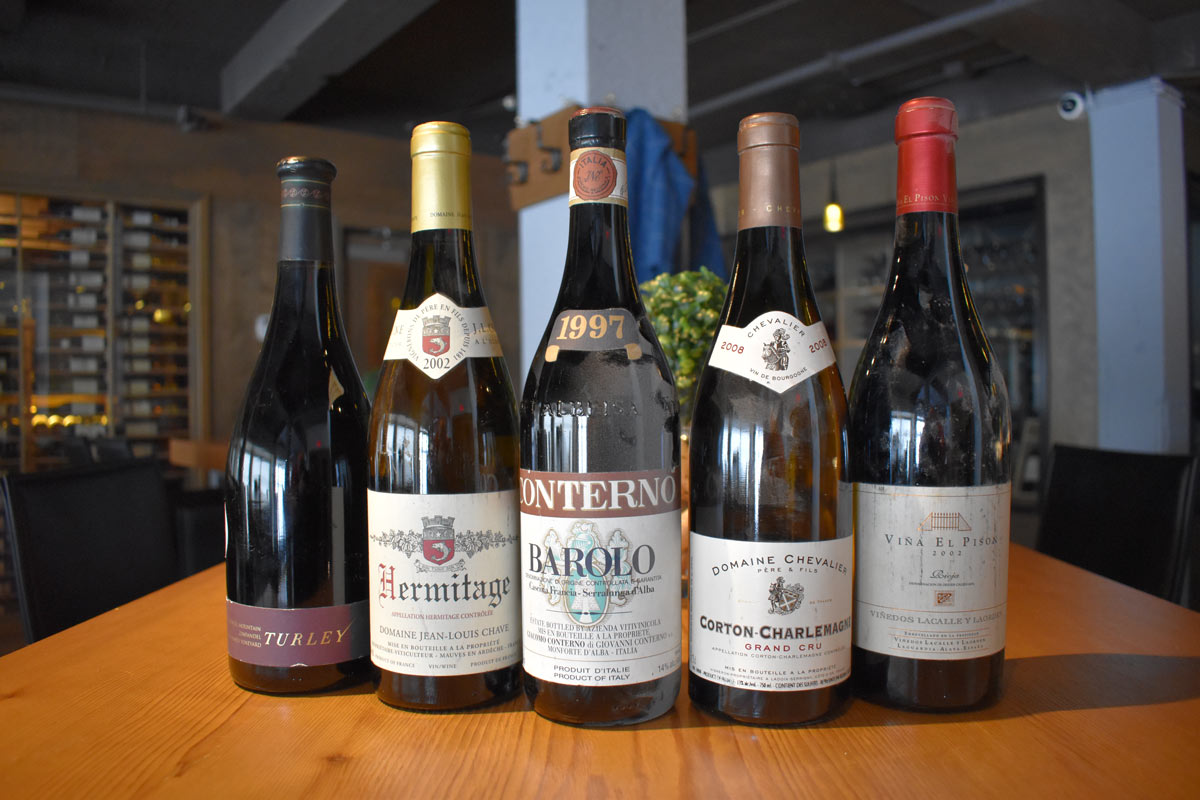 OPENING SATURDAY MARCH 2, 2019
Turley, Pringle Family, Howell Mountain, Zinfandel, 1998, Vallée de Napa, Californie, États-Unis.
1 oz | 17$
OPENING SATURDAY MARCH 9, 2019
Domaine Jean-Louis Chave, Hermitage blanc, 2002, Vallée, du Rhône, France.
1 oz | 17$
OPENING SATURDAY MARCH 16, 2019
Vinedos Lacalle Y Laorden, Vina El Pison, 2002, Rioja, Espagne.
1 oz | 17$
OPENING SATURDAY MARCH 23, 2019
Domaine Chevalier Père et Fils, Corton-Charlemagne Grand Cru, 2008, Bourgogne, France.
1 oz | 17$
OPENING SATURDAY MARCH 30, 2019
Giacomo Conterno Di Giovanni, Cascina Francia-Serralunga d'Alba, 1997, Barolo, Italie.
1 oz | 17$
Worth the detour
The sommeliers' favorites
Our wine cellar has several hidden treasures where our renowned sommeliers make great new finds every day. Every month, they will make you discover their favorites in the restaurants.
For February 2019, they suggest: 
Domaine Philippe Tessier, Cour-Cheverny 2016 (blanc)
Mullineux, Swartland, Kloof Street 2015 (rouge)
Revelette, IGP Méditerranée, Le Grand Rouge 2016 (rouge)
Spring Valley, Walla Walla Valley, Katherine Corkrum, Cabernet Franc 2013
Learn more about the sommeliers's favourites!
A select club where you can benefit from exclusive priviledges, from discounts on wine bottle purchases to invitations to our wine events.
Les amis du Bistro à Champlain get :
6 free Queylus wine tastings (Value of $102)
5 % off any wine à la carte
10 % off on digestives and dessert wines
20 % on our wine events, in addition being able to book your place before everyone else
50 % off cellar rentals, including a sommelier's service to guide you in your bottle choices
Gift box
99 $ for life
For more information : 1 888 378-3735 ext.6038 or vinicole@Esterel.com.
Become a member
What's new? Wine news and special events: be the first to know about the activities of the Bistro à Champlain's wine cellar by subscribing to our wine newsletter.
Susbscribe to the newsletter